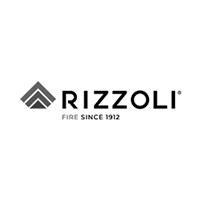 Founded by Carlo Rizzoli in 1912, Rizzoli began as a small laboratory in the old town center of Cavalese, initially serving as a workshop. Operating as a family-owned business for over a century, the company continues to manufacture a wide range of products, including wood-burning stoves, thermo-stoves, hoods, wood-burning fireplaces, and thermo-fireplaces. These products, produced using traditional methods but offering perfect utility for today, have seamlessly blended the possibilities of the most modern technologies over four generations.
The Power of Fire Shaped by Passion and Technology
Quality is the fundamental requirement for each product. Rizzoli is a user-centered company that is constantly evolving to respond to ever-changing tastes and needs. Materials are carefully chosen, processes are optimized, and meticulous attention is paid to aesthetics through functionality testing. All products are designed, crafted, and ultimately tested in the laboratory with the aid of the most modern technologies. Another assurance of this quality process is the ability to create a globally recognized range of products.