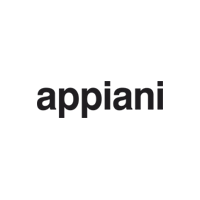 Appiani mosaics has actively promoted its products on the Italian and international markets since it was first founded in Treviso in 1873. Its founder Graziano Appiani started production of the first coloured ceramic tiles in 1910 and built "Eden village" to provide housing for his workers in a village that had its own restaurant, cinema and theatre: the first example of a forward thinking style of business. In the early 20th century, created new systems for processing and firing materials. In 1960, the Appiani family embarked upon a policy of modernisation and started to work on projects with designers such as Giò Ponti and Pompeo Pianezzola.
Appiani offers individual pieces and flexible modules enabling designers to create combinations, designs and layouts with great decorative finesse and architectural value. Production is divided into complementary products, made using various production technologies that can be combined with one another. The high firing temperature guarantees exceptionally durable and hardwearing products, ideal for countless potential applications as floor or wall coverings, indoors or outdoors.
Quality and Durability
Appiani is a member of the Altaeco group, along with three other outstanding ceramics companies: Ceramica Bardelli and Ceramica Vogue.