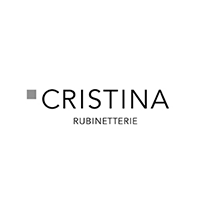 CRISTINA Rubinetterie was founded in 1949 by Ezio Cristina in the city of Gozzano, Northern Italy. The company saw significant growth when his sons, Alberto and Riccardo, transformed it into an industrial-scale operation, particularly with the acquisition of SILFRA, a company specialized in industrial production, in the late 1980s. In 2017, CRISTINA Rubinetterie became a part of the leading Caleffi Group, ensuring the brand's continuity and facilitating international expansion.
Where Innovation Meets Tradition
As a leading Italian sanitary plumbing fixtures brand, CRISTINA Rubinetterie takes great pride in producing functional, durable, and aesthetically contemporary design products for bathrooms, kitchens, the wellness sector, and outdoor spaces. Throughout its history, the company has made significant contributions to the industry, including being the first in Europe to introduce the thermostatic mixer with a gradual regulator that allows for a constant temperature. CRISTINA Rubinetterie continues to invest in technology, offering numerous advantages in its production processes and product quality.
The brand's commitment to maximum aesthetic value and attention to detail is evident in its appreciation for the expertise of craftsmen, and its ethical, sustainable values are reflected in all production practices. With collections aimed at enhancing the elegance and sophistication of sleek, minimalist forms, the brand designs products that cater to the needs and styles of every bathroom.