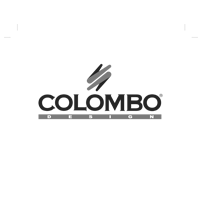 Colombo Design is a fresh, design-oriented, family company established in 1990 in Terno d'Isola, in Northern Italy. A worldwide point of reference for the true Made in Italy within the door handles, the bathroom accessories and the shower enclosures field.
Brand mission is to produce "Green made" articles of high standard design for the modern habitat, articles that are easily adaptable and that are accessible to who is looking for functionality and durability. Colombo Design committed to manufacture design's masterpieces having as inspiration the men, women and child, that will use them along with the spaces where we breath, live and experience our life.
Technical aestetic
The Colombo Design bathroom accessories collection is the ideal enrichment to decorate the bathrooms of all styles. The elegance of these bathroom accessories is accompanied by excellent technical skills, that only the best materials and the most innovative processes can ensure. Colombo combines technical excellence and aesthetics in the production of bathroom accessories, door handles, furniture handles, knobs and signs.